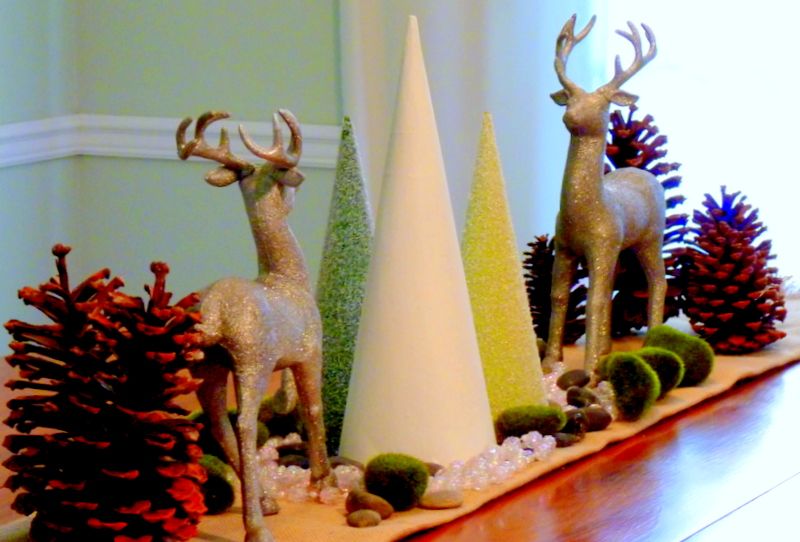 When your home is on the market, the home staging you do during the holidays needs to be festive without being too kooky. Here's an example of what works. I think my combination of wintry, woodland elements with clean, shiny colors hits just the right note.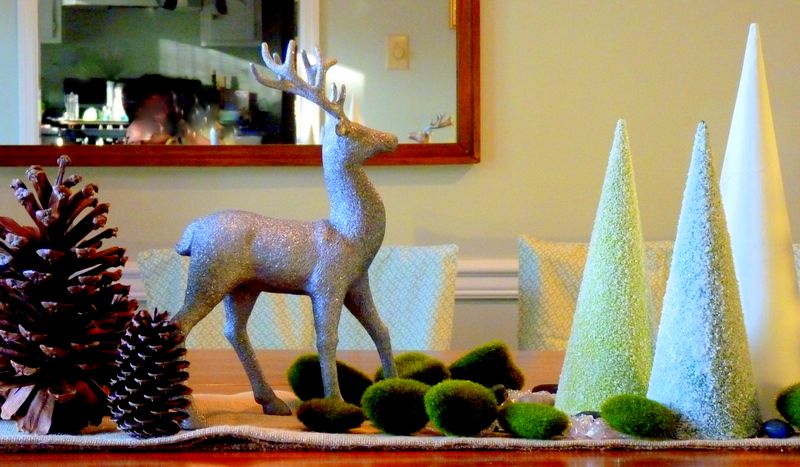 I put together this centerpiece for a long table. I centered a strip of natural burlap the length of the table. I layered on the first element – two round mirrors that hinted of iced ponds. I surrounded the "ponds" with a couple of shiny bead garlands and then added black and brown rocks for some contrast.
I wanted some texture, so I pulled out my bag of fake mossy blobs. They look something like small shrubs. For larger shrubs and a different texture, I placed some natural pine cones at each end of the arrangement.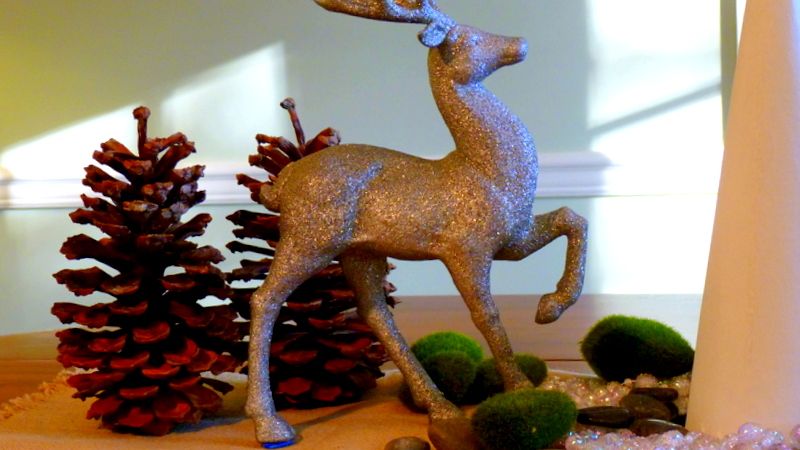 My two focal points were the deer I purchased. They were gold, and I sprayed them with silver paint. They still glisten enough to make me happy.
To complete the tableau, I parked the cone-trees I made from purchased paper mache bases that I painted three different colors. The two smaller paper mache trees I covered with Epsom salts for some sparkle, and the third tree I left white.
What Makes a Winning Tabletop Display?
Here are the elements I keep in mind while assembling any
tablescape
for home staging:
Make the colors harmonious with the rest of the room. The color scheme of your home should flow from room to room, but Christmas is a time when some extra doses of color are welcome.
Avoid overly religious subjects, or political decor, or any art that might be considered too personal or controversial. People like to do business with -- as in, buy houses from -- people who are most like them. The less they know about you personally, the more businesslike and objective the
negotiations
.
If the rest of your home is minimally decorated, don't go overboard with tablescapes at
holiday time
. Your displays should maintain the character and "weight" of your home, and showcase its assets.
Don't use anything that is too expensive or has sentimental value. Things disappear during home tours.
Concentrate on shapes, textures, and colors for subtle variety. Nothing should be too distracting. You want buyers to notice the
Wow Factors
in your home.
Have your vignette tell a story. Ideally, the story helps sell your home by reminding buyers what's special. It could be the size of the dining room, the romance of the bedroom, or the setting of the home itself.
Do you have a home on the market? Are you planning to sell your home soon? My $4.99
eBook
,
DIY Home Staging Tips to Sell Your Home Fast and for Top Dollar
, will help you show your home in the best possible way, by staging it right. You can download the book instantly, and start your own home staging today.